TOP LONDON ESCORT CATEGORIES
SEARCH BY PRICE
FEATURED LONDON ESCORTS

NEW LONDON ESCORTS

RECENT LONDON ESCORTS REVIEWS

Dayana
Amazing girl..Amazing OWO. she is an expert and really puts in all the effort to pls you..totally worth it..
Review submitted by Vik on 8/4/2017

Dani
Dani looked so sexy in a school girl uniform. A bucket list item ticked off there
Review submitted by Jonty on 5/25/2017

Judith
Best £250 ive spent in w long time.I had a Splended night with Judith. What a classy girl
Review submitted by Alistar on 5/19/2017

Noel
I visited Noel on 3hr incall she is an extremely beautiful girl made me feel very welcome the afternoon went far too quickly i really enjoyed my time with her.Noel is a must see escort i highly recommend her
Review submitted by Billy on 4/8/2017

Tiarra
I do not ussually use escort girls but the luck i had this afternoon made me change may mind. Tiarra is a verry beautiful girl with a nice personality and amazing body!! She made me relax and she took care that i feel happy! For sure i will see her again next time i come to London!
Review submitted by Hadi on 3/12/2017
Luxury Cocktail Bars
After a stressful day at work there is nothing we enjoy more than kicking back and relaxing with a drink in our hand; here in London the possibilities are endless for where you can do this; however a personal favourite of ours and a lot of our clients is to visit one of London's many luxury cocktail bars. Glitzy and glamorous, these bars really do redefine the meaning of exuberance and elegance; all designed to make you feel super relaxed and chilled out, they are a sure fire way to enjoy yourself. You will often find yourselves rubbing shoulders with London's elite in these bars; from famous actors to world renowned sports stars. When visiting these bars you are not just paying for your chosen drink, but for the all-round service provided and the surroundings you see yourself in. Huge chandeliers, luxurious décor and dazzling views are just some of the components you will find in these luxury bars.
One of our personal favourites is Radio Bar, the view alone is enough to put this up there but there is so much more that Radio has to offer. Located in Central London on the Strand, the cushioned roof terrace seating provides you the perfect lounging point to enjoy a cocktail or two whiles gazing out at the truly breath-taking views of London, in particular St. Paul's, The Shard and Somerset House. There is not many places in London with better views where you can also enjoy a wide selection of brilliant cocktails marvellously created by the fantastic bar staff.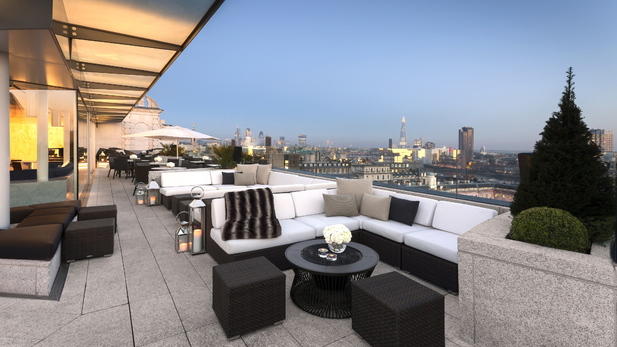 The reason we didn't say Radio Bar offered the definitely best views was down to the OXO Tower bar; this bar truly is one of the best bars in London to enjoy the entire London skyline as your eyes move up the shimmering waters of the Thames. Not only are the cocktails divine here but there is also a world class menu of light bites and snacks to take the edge off of all the cocktails.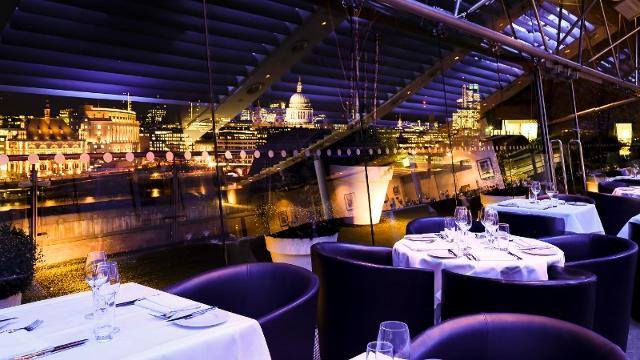 Last updated: 20, March 2016
| | |
| --- | --- |
| Recent Blog Articles | |
| | |
| February 2018 | |
| | 27/02/2018 |
| | |
| June 2017 | |
| | 20/06/2017 |
| | |
| May 2017 | |
| | 18/05/2017 |
| | |
| April 2017 | |
| | 14/04/2017 |
| | |
| March 2017 | |
| | 02/03/2017 |
| | |
| February 2017 | |
| | 11/02/2017 |
| | |
| January 2017 | |
| | 10/01/2017 |
| | |
| December 2016 | |
| | 17/12/2016 |
| | |
| November 2016 | |
| | 28/11/2016 |
| | |
| October 2016 | |
| | 25/10/2016 |